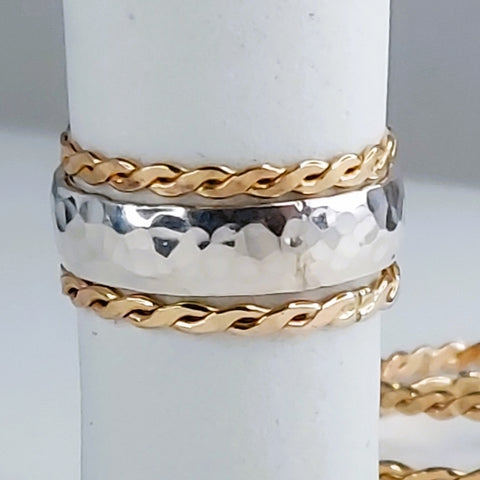 Bold Hammered Band & Thin Braids (Sterling Silver & 14K Gold-Fill)
* You always save at Shelby's with our stacked sets! *
Our sterling silver BOLD BAND surrounded by two 14K gold-filled THIN BRAIDS. 
This is a great 3-ring stacked set. They can be worn as a stacked set, individually, or added to other rings. We love them!
Includes three rings: (1) Bold Band (sterling silver), (2) Thin Braids (14K gold-filled).

Toe Ring & Small Ring Sizes: 1 through 6.5 (including half sizes)
Fingers & Thumb Ring Sizes: 7 through 10 (including half sizes)
For help with sizing, CLICK HERE.

---
We Also Recommend
---